Tickets are not available as this course has passed.
Course Navigation
Gun Fighter II:  GF II continues with even more advanced skill sets for the M-4 operator. Army and Marine infantry officers and federal agent firearms instructors have all commented that they never never received such in depth training on how to fight with and employ the AR platform.
This is eye opening, life changing, training in the tools of Liberty and the skills of Freedom that will recharge and revitalize not just your physical tactics but your moral strategies as a Warrior-Citizen! Designed
by Warriorschool Founder Jeffery Prather. Join us.
GF I is prerequisite.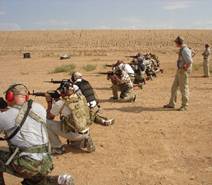 Similar Courses